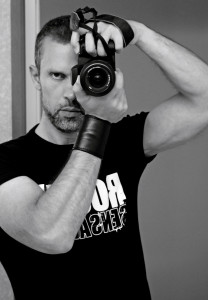 Through his photography, Cedric Lefebvre seeks to establish links between psychology and contemporary concepts. His works move contrasts closer, deny divergences, erase boundaries and flirt with reality… In an effort to remind audiences that differences are often just illusions.
While architectural themes form the bases of his portfolio, his current research focuses on an individual's dialogue with a series of silent speech portraits.  Using a camera in a very specific setting, he captures elusive emotions which will ultimately form the canvas for his own inner reflection.  In parallel, he also explores the international biker culture through portraits in a series called 'Bikershot' subject of a book released in November, 2014
His photography has been featured, exhibited and published internationally, most recently in VOGUE.it and in the Trendbook 2017+ (2015); in L'Oeil de la Photographie (France) 2014; in In The Red (China) 2013; in OUT magazine (USA) 2013; at PhotoLux 2013 in Lucca (Italy); during the Fashion Week and in Galleria Carla Sozzani, Milan (Italy), 2012; at Italia Independent for the launch of the Blue Collection by Vertu, Milan (Italy), 2012; in Tod's boutiques (Milan, New York and Tokyo) and in Palazzo Morando for Vogue Fashion's Night Out, Milan (Italy), 2011; at Galleria MetroKubo, Trieste (Italy), 2011; at HDLU, Zagreb (Croatia), 2009; at Crimes Town Gallery, London (UK) 2009; at VIP Art Gallery, Belgrade (Serbia); at 198 Contemporary Arts, London (UK), 2008.
On stage works realised with the playwriters ricci/forte have been published in Mash-up Theater, a cura di Francesco Ruffini (Scheda del Libro).
Most of his work are available in printed limited edition but also  for licensing on the platform developed jointly by Art+Commerce and VOGUE Italia.
Cedric Lefebvre was born in Brussels where he lives and works.  He is available for commissioned work.