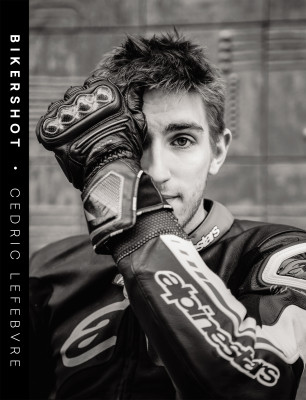 A biker portrait series which explores identity, masculinity and sexuality.
Bikershot features a series of portraits of European, American and Australian riders with their bikes and gear. The portraits play on the symbolism of bikes and brands, contrasting the image an individual projects with the secret personality behind the leather jacket.
Bikershot grew out of Lefebvre's concept of creating a 'playing card' portrait of a biker to show two opposing aspects of the same individual. The idea of a portrait with the dual concept of the spoken and the hidden at its core spread through the biker community on social media, bringing requests for more, until Lefebvre decided to create a collection.
Lefebvre says, "Bikers are a tribe, and brands, style and behaviours are their language; a language of heroes, seducers and even fetishism. But each member has a unique syntax, and deciphering it is the ultimate aim of these portraits."
"The book brings a different view to bike culture, counter to its stereotype: a personal connection between the rider and his bike." Michael (USA)
"My bike isn't just a machine. It's one of the most important things in my life. It's friendship, adventure and setting goals. These pictures capture my relationship with my bike and everything that goes with it." Björn (Sweden)
"A unique experience that has changed my relationship with my bike. I can see beyond two wheels and an engine to the bond between rider and bike." Alexis (UK)
Bikershot is available worldwide from Amazon.co.uk or Amazon.fr (ISBN 978-2-9601475-0-6).
Collector's edition including original signed, numbered print available from the author or from Shopify.
Book dimension: 30,5 x 21,7 x 2,1 cm
Hardcover, 160 pages, 144 images in colour and B&W
Designed and published by Cedric Lefebvre
Printed in Belgium
Print dimension for the Collector's: 28 x 19 cm (27 x 18 cm printed area) on Hahnemhüle Fine Art paper – 100 copies numbered from I to X and from 11 to 100
ISBN 978-2-9601475-0-6